REGUPOL terrace solid fire
Highly durable terrace protection layer with a fire prevention finish
REGUPOL terrace solid fire, a highly compressed, highly resilient protection layer according to DIN 18531, is fire retardant equipped for installation under pedestals or mounting systems of terraces, loggias and balconies to protect the sealing system. General appraisal certificate for fire class BROOF (t2) - resistant against flying sparks and radiant heat with wind sweep.
REGUPOL resist solid fire is a highly compacted and highly resilient protective layer for full- or partial-surface installation under stilt bearings and mounting systems of terraces with an additional flame retardant finish. This alternative for special requirements is made of PUR-bonded butyl rubber and is a protective layer according to DIN 18531 and the Flat Roof Guidelines. It sustainably and reliably protects the waterproofing and insulation of your flat roof against mechanical and thermal influences. From a thickness of eight millimetres, REGUPOL resist solid fire is rated fire class BROOF (t2) according to DIN EN 13501-5. REGUPOL resist solid fire is resistant to flying sparks, radiant heat and additional wind impact, as required in Scandinavia, for example. The material is height-compensating, resistant to microbes, pressure and temperature, permanently elastic, ageing-resistant, water-permeable, vapour-permeable, rot-proof, and largely resistant to acids and alkalis. REGUPOL resist solid fire consists of up to 95 percent PUR-bonded rubber granules from tyre retreading, based on recovered and recycled polymer raw materials. REGUPOL resist solid fire is thus a prime example of a circular economy and upcycling.
Depending on the availability of raw materials, the product may different from representation on the image.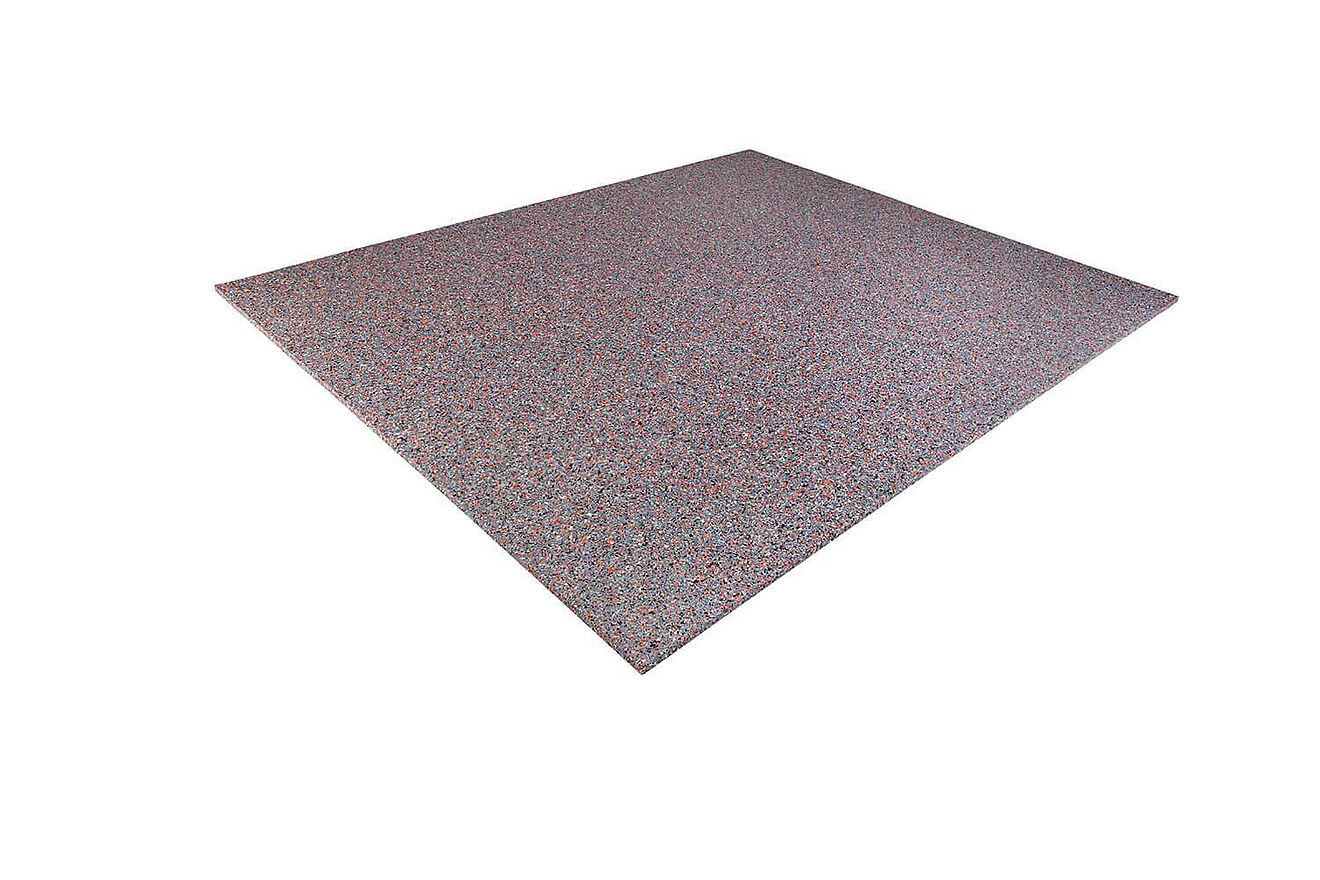 Features
---
Protective layer according to DIN 18531 and the Flat Roof Guidelines
Consists of up to 95 percent PUR-bonded butyl rubber granules
Height-compensating, resistant to microbes, pressure and temperature, permanently elastic, ageing-resistant, water-permeable, vapour-permeable, rot-proof
Increases the static friction
Largely resistant to acids and alkalis
Highly compacted, highly resilient
BROOF (t2) according to DIN EN 13501-5, test according to DIN CEN/TS 1187
Simple and efficient installation/processing