REGUPOL walkway alu
Universal maintenance walkway for all waterproofing systems
REGUPOL walkway alu the elastic roof and paving tiles for building and marking maintenance routes on flat roofs and protection from the sealing system according to DIN 18531. An aluminium-laminated backing prevents plasticiser migration for compatibility with all commercial sealing systems.
REGUPOL walkway alu is a roof and walkway tile with an aluminium Triplex foil laminated onto the underside, which has been used successfully on flat roofs in maintenance walkways for photovoltaic, solar, antenna and other technical facilities for many years.
As a protective membrane, the dense, viscoplastic material texture protects the waterproofing in accordance with DIN 18531 and the German flat roof guidelines. At the same time, its low tare weight often eliminates the need for static considerations for retrospective installation.
The Alu-Triplex foil prevents plasticiser migration with waterproofing systems that are not rubber-compatible.
Thanks to a simple plug-in dowel system, the walkway tiles can be laid easily as maintenance paths or homogenous surfaces and are ready for use immediately. The material has a flame-retardant finish. This means that REGUPOL walkway alu meets fire class standard BROOF (t1) in accordance with DIN EN 13501-5, is resistant to flying sparks and radiant heat in accordance with DIN CEN/TS 1187, and is classified as "hard roofing" in accordance with abP P-MPA-E-21-507.
The walkway tiles are available in red and black and clearly mark the maintenance paths even in poor visibility. REGUPOL walkway alu is pressure-resistant, permanently elastic, temperature-resistant, resistant to ageing and rot-proof. It is also antistatic, in accordance with EN 1815.
The protective layer consists of up to 95 percent PUR-bonded, recovered and recycled butyl rubber granulates and is therefore a perfect example of the circular economy, or upcycling, in practice.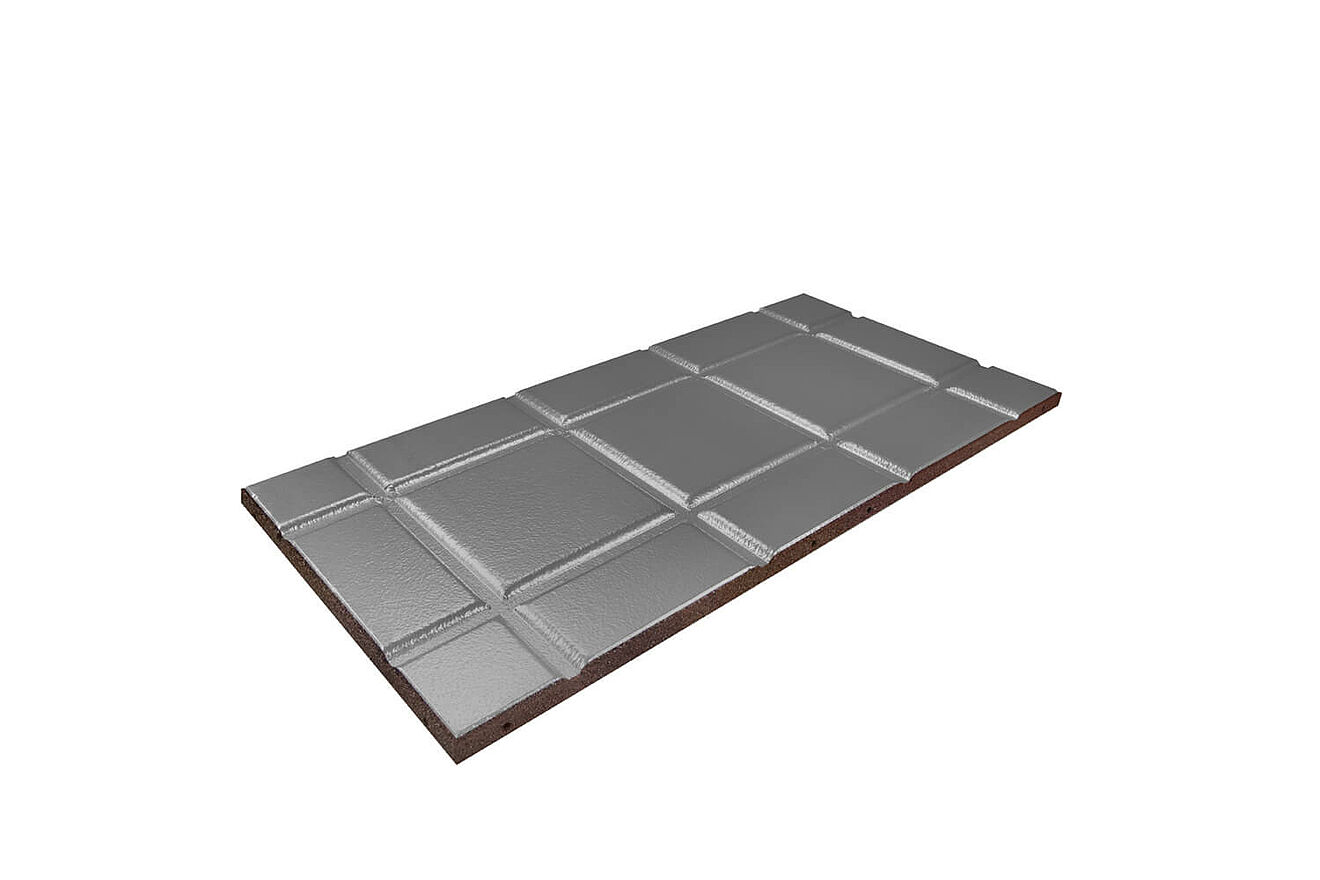 Colour and pattern selection
Features
---
Protective layer in compliance with DIN 18531 and German flat roof guidelines
Consists to 95% of PUR-bound rubber granulates
Relatively low tare weight
Pressure-resistant, permanently elastic, temperature-resistant, resistant to ageing
Water-permeable, rot-proof
Resistant to acids and alkalis, to the greatest possible extent
Highly slip-resistant
General building authority approval certificate P-MPA-E-21-507:
BROOF (t1) in acc. with DIN EN 13501-5, tested in acc. with DIN CEN/TS 1187, classified as "hard roofing"
Anti-static in acc. with EN 1815
Easy to lay/install