REGUPOL solar solid fire
PV on a flat roof? In Scandinavia?
REGUPOL solar solid fire is a rubber free, highly compressed and highly resilient protection layer according to DIN 18531, specially designed for your PV mounting system and high demands and on non-rubber-compatible sealing systems. With its general appraisal certificate for fire class BROOF t2 it is also suitable for use in Scandinavia.
REGUPOL solar solid fire represents a highly compacted and highly resilient protective layer with an additional flame retardant function. The eight-millimetre-thick material is flame retardant and, when laid over the entire surface, is considered "hard roofing" with the classification BROOF (t2) according to DIN EN 13501-5. REGUPOL solar solid fire is resistant to flying sparks and radiant heat with additional resistance to wind impact and reduces the fire load on flat roofs. This alternative for special requirements is made of PUR-bonded butyl rubber and is a protective layer according to DIN 18531 and the Flat Roof Guidelines. The protective layer ensures secure positioning of solar systems due to high friction coefficients and simultaneously protects the roof waterproofing from mechanical, thermal and chemical influences. REGUPOL solar solid fire can be designed to match the mounting system and is individually customisable. The material is pressure-resistant, permanently elastic, resistant to ageing, water-permeable and vapour-permeable. REGUPOL solar solid fire consists of up to 95 percent PUR-bonded, recovered and recycled butyl rubber granules and is thus a prime example of a circular economy and upcycling.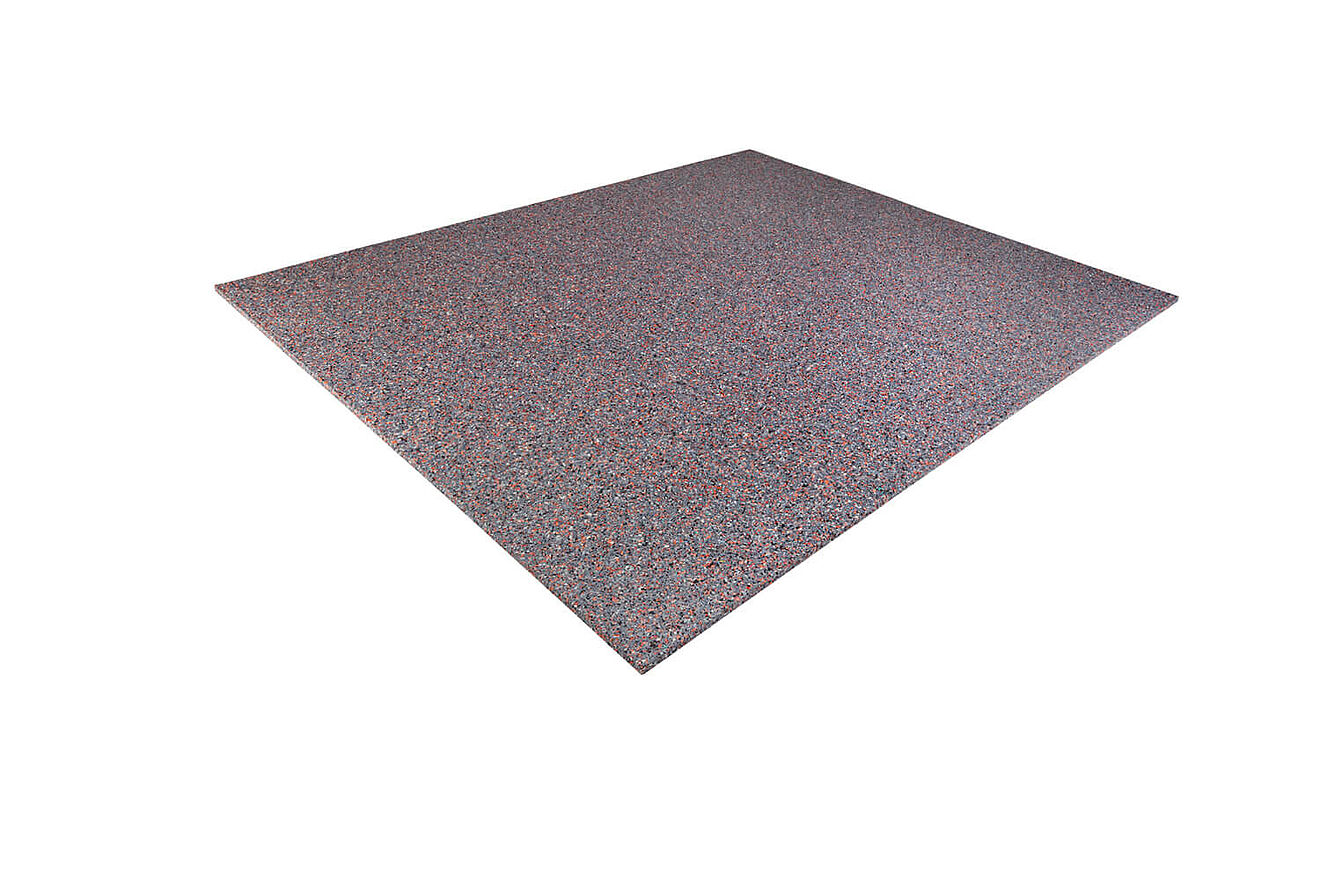 Features
---
Protective layer according to DIN 18531 and the Flat Roof Guidelines
Consists of up to 95 percent PUR-bonded rubber granules
BROOF (t2) according to DIN EN 13501-5, test according to DIN CEN/TS 1187, considered as "hard roofing"
Height-compensating, highly compacted, highly resilient, resistant to microbes, pressure and temperature, permanently elastic, resistant to ageing, vapour-permeable, water-permeable, rot-proof
Largely resistant to acids and alkalis
Thicknesses and dimensions depending on the substructure or mounting system
Increases the static friction
Antistatic according to EN 1815
Simple and efficient installation
Stock
---
8,000 x 1,250 x 6 mm
11 individual pieces on a pallet